Did you know we are a certified Öhlins service center?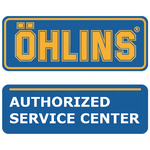 All Öhlins suspension kits purchased from 3DM Motorsport receive one free re-valve and 20% off of all Öhlins services.
3DM Motorsport Öhlins Service Options:
Re-valving Service
Valving is a term for the force a damper makes depending how fast (velocity) the suspension is moving up and down (bump and droop). Valving is determined by many factors such as the use case (street or track), spring rates, motion ratios, chassis control, driving style and more. In other words, there is a lot more to it than simply controlling the spring.
​
​
Rebuild Service
We get this question all the time… "how often do I need to service my Öhlins dampers?" The short answer is, it depends. A suspension is a moving mechanical device. Just like an engine, the oil breaks down and parts wear out. Service intervals are dependent on may factors such as environment (salty roads), road quality (pot holes), type of use (street or track), and more. Please Contact Us and we can aid in what re-build service interval is best for you.
​
​
Service interval references for DFV based dampers
​
The 2020 Volvo polestar uses the Öhlins Road and Track damper and passed a 100,000 mile endurance test.

We saw a dedicated track Porsche go for over 100 hours of track use with no problems! When they were serviced they looked almost brand new!
Dyno Service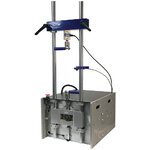 ​
Check Up Test:

This is a simple test to ensure your damper is working properly. This test is done to compare to either an historic dyno test or to compare to make sure the left and right dampers are working the same. This is typically done to a non-adjustable damper or to a damper that has been rebuilt to confirm proper assembly.

Clicker Sweep Test: This test measures the entire adjustable range of a damper.
Custom Test: We offer CVP, PVP, advanced clicker sweeps, gas pressure effects, and more.
Repair Service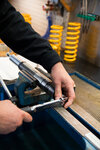 ​
Sometimes accidents happen, you drop a part never for it to be found again (clicker knobs are notorious for this). Wrecks can damage shock parts. Shock damage can occur as collateral damage from other part failures (control arm ball joints for example).
​
​
We offer repair services for all Öhlins dampers. Repair items include rubber mounting bushings, top plate spherical bearings, clicker knobs, or any other external part.
​
​
​
Customization Service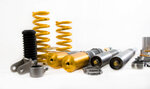 For example, Öhlins Road and Track DFV suspension kits are designed to work with OEM mounts however there are many aftermarket mount options such as adjustable camber plates. Often times these aftermarket mounts are generic and require special spacers to make them fit an Öhlins damper. We offer custom part fabrication to fit your Öhlins damper to your favorite aftermarket mounts.
​
For more details and pricing, check out our site:
3DM Motorsport is an Authorized Öhlins Automotive Dealer and Service Center. We highly recommend reviewing our '3DM Motorsport Öhlins Suspension Guide' to get a full understanding of all the Öhlins products and services we offer. All Öhlins suspension kits purchased from 3DM Motorsport include...
3dmmotorsport.com
Last edited:
1
Reactions:
fmorelli