I bought one of these brake master cylinders a while ago to go along with the F30 brakes.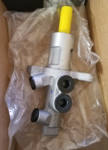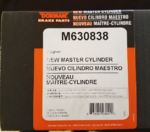 Before I dive into this, any input on how to best go about it? It doesn't seem to difficult but I'd like to avoid any ABS headaches.
------
Okay, so I got this installed, here are some photos and info bits.
Prep: Drain the fluid out of the reservoir. This is probably obvious but if you're an idiot like me and think you can be slick, you'll end up spilling brake fluid everywhere and end up spending 3x the time trying to clean it up so you paint doesn't get corroded. Bleed the brakes or do whatever you need to ensure there is no fluid in the reservoir, then pull the tank off as it opens up the necessary working room. You can pull it off as a unit but you end up spilling fluid down the body and it comes out down behind the fender liner, some areas are not reachable with a cloth.
The stock master cylinder/reservoir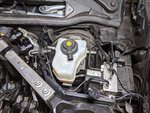 Remove the pin holding the tank to the master cylinder(easier to see when removed):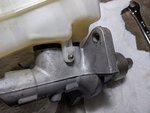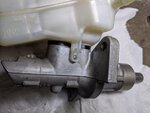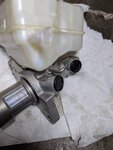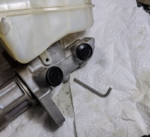 User a screw driver to rock the tank out of the rubber seals(Make sure you've got something to soak up any extra fluid, chances are there will be some.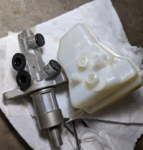 Remove the two nuts holding the master cylinder: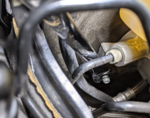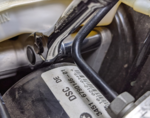 Grab one of the plugs from the new master cylinder if you have them, unscrew one of the lines from the side and plug the master cylinder hole so fluid doesn't pour out: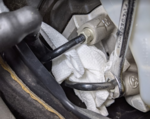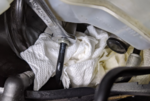 Repeat with the other line and the master cylinder should come out. Its a tight fit but it will come out, you may need to make some room with the metal lines in that area. I also used the plugs from my calipers to cap the lines so nothing else would drip out: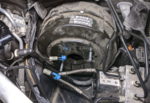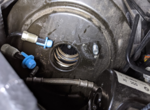 Make sure you've cleaned up any fluid that may have dripped down as this is your last chance to fit your hand down in there and put the new master cylinder on: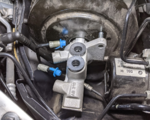 Put the lines back into the new master cylinder and tighten the two nuts back on: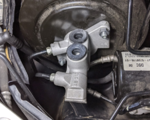 Push the reservoir back onto the seals and replace the pin: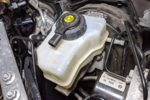 Fill the reservoir back up and use a power bleeder to push all the air out and then use INPA to evacuate any remaining air from the system using this guide:
This is a supplemental process to bleeding your brakes the normal way with a pressure or vacuum bleeder. You'll need to make sure you have plenty of brake fluid, because each procedure tends to drain the fluid reservoir almost completely. Make sure you have an OBD cable connected to the car and...
bmw.spoolstreet.com
Last edited: