Here's a how to delete your red boost pipe and get an intercooler for under $300
Not so much a DIY since it's a straight forward install. Main reason of doing this is eliminate the leaky red boost hose and also find an alternative better than stock. Yes, there are alternatives out there like ATM which have a plug and play options BUT this will enable you to install any high performance N54 intercooler like the VRSF 7.5" race.
Things you need
1. Intercooler, I bought the cheapest one off aliexpress for testing purposes but more importantly I wanted to delete the red boost hose. You just need a style like below, not the clip connects.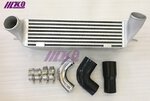 2. HPS 90 degree coupler 2.25" to 3" (HTSER90-225-300-BLK), this will need to be cut to fit, will explain further below. You can find your own locally, but this was the only one I found that was long enough with 4" legs (need at least 3")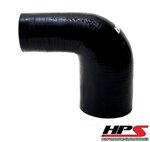 3. 45 degree coupler 2.75" to 3", I used a performance world 118273 reducer, again longer legs the better, this was 5"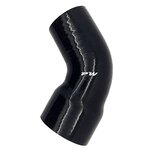 4. Hanger bolts, nuts, washer, plastic spacer at your local home depot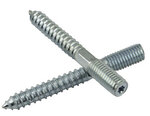 Installation Methods
Won't go through how to take out the intercooler but how I managed to get this installed. Basically just gotta remove the intercooler and cut the shroud depending on which one you bought. Lots of these photos were stolen from other DIYs.
Step 1:
Hot side Method 1 (most ideal)
Get an insert from ATM, he does sell these separate if you ask or I could maybe CNC them locally. This would allow you to install the 45 degree coupler easily. Did not have to cut the coupler but thinking back a bit might of help inserting the intercooler.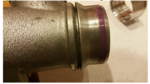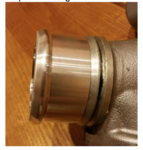 1a. Hot Side Method 2
Cut the red boost hose and clamp the coupler on top. Its a bit tricky since you have to put it back on with the clip.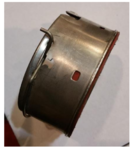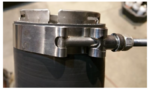 Method 3
Orions way, seems to be the least effective since all they do is shove a coupler in and clamp it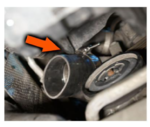 Step 2:
Cut off the cold side intercooler coupler. I used a Dremel and carefully cut the clamps off. Then install the 90" coupler (I had to cut about 2" from the top and 1" from the bottom)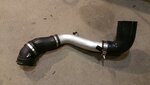 3. Put in intercooler and install hanger bolts and hardware. As the stock intercooler bolts wont be long enough this is where the hanger bolts come in.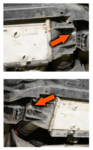 4. Finished product, no more leaks or have to replace any more $$$ orings.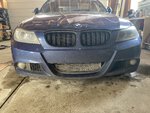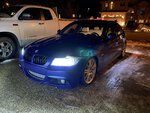 Hope this helps, in the future I will be helping a friend with his X5D.
Last edited:
2
Reactions:
doublespaces and Torgus